The Original Anime...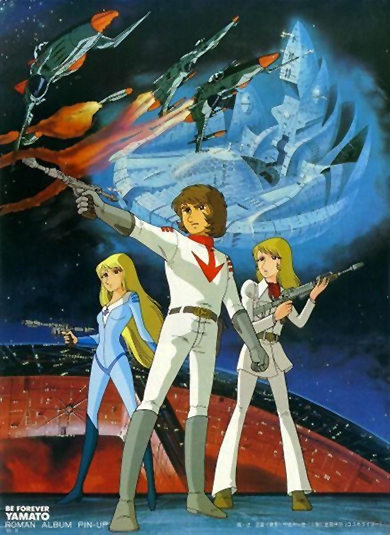 First aired in Japan in 1974 under the name Uchuu Senkan Yamato (Space Battleship Yamato), Star Blazers premiered in the United States in 1979 and had a profound effect on popular culture.
Riding the tide of science fiction popularity brought about by Star Wars and Star Trek: The Motion Picture, among others, Star Blazers was featured overarching plots, deep character development, and delved into issues never before seen on what was dismissed a children's show.
Spanning three seasons and over seventy episodes (as well as five movies in Japan), the original run of Star Blazers came to end in 1985. In Japan the series was rebooted and re-imagined several times, including as a live action movie and two new TV series, Uchuu Senkan Yamato 2199 and its sequel 2202.
The impact of the show on pop culture around the world cannot be overstated. In Japan it literally began an entire genre of TV, film and storytelling across multiple media. In the U.S., nods to Star Blazers continue to appear, and a new live action movie is in development in Hollywood as this is written.
Sea of Stars is a continuation of the story of Star Blazers. If you don't remember the show, or never saw the Japanese movies, don't worry. We've got your back. Click on the Episode tab at the top of this text and listen to our documentary episode "The Argo: Sailor of the Stars" for a full catch up. Forward Momentum Productions is proud to have contributed to the mythos of the show, even in our small, fannish way.
The Argo: Sailor of the Stars
For those not entirely up on the Star Blazers/Space Cruiser Yamato anime series, we present this documentary episode. It focuses not only on the TV episodes of Star Blazers, but incorporates the movies "New Voyage", "Be Forever", and "Final Yamato" which are only available in North America on subtitled DVD. All of the original series is available on DVD from Voyager Entertainment.
The documentary is read and acted by the cast of the "Sea of Stars" audio drama, and features both classic music from throughout the series, and several audio cuts from the first two seasons of the English TV episodes. This is a great way to re-familiarize yourself with the back story of this classic anime.